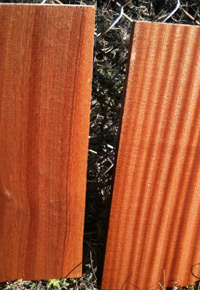 As a long-time favorite of furniture and cabinet makers, Genuine Mahogany has enjoyed centuries of popularity. Unfortunately, years of widespread use, coupled with irresponsible forestry management, have led to concerns regarding sustainability. This South American species has suffered the rigors of good old supply-and-demand issues, as well, resulting in an increasingly cost-prohibitive situation. Among the many alternatives to Genuine Mahogany is the bargain-priced Sapele. Costing less than Utile and approximately half the price of Genuine Mahogany, this African species offers many of the same characteristics that make Mahogany ideal for many interior and exterior applications.
As a member of the same family as Mahogany and the same genus as Utile, it makes sense that Sapele shares many attributes with those two popular species. The reddish brown heartwood is similar in color to Mahogany. The distinctive appearance of Sapele includes an interlocking grain, which gives the appearance of light-and-dark ribbon-like striping — a characteristic that is enhanced when the lumber is quartersawn. Due to this attractive aspect of its appearance, Sapele is often used as plywood veneer. On the soft side for a hardwood, Sapele is still harder than Mahogany, making it easier on tools but fairly resilient to everyday use.
Sapele takes a moulded edge extremely well, and most moulding applications utilize the flat-sawn cut for sake of consistency. Although attractive, the ribbon-like texture of quartersawn Sapele lacks the consistency in coloration that the flat-sawn wood boasts. At the same time, quartersawn Sapele does provide greater stability, making careful consideration of application and end use key.
Solid Sapele is generally stable when dry, making it ideal for use in doors. Although it works well for exterior applications such as windows and doors, it is ideal for painted applications due to its fine graining. The stability of Sapele is highly dependent on its being dried properly. When Sapele is shipped out of Africa, it has been dried to the European standard moisture content of 12-14%. Once such lumber arrives in the US, it should be air-dried for 1 to 4 months, depending on the board thickness. After being properly air dried, it should be kiln-dried in order to arrive at the North American standard moisture content of 6-8%.
Few lumber suppliers are well-equipped to ensure the properly dried, quality lumber that J. Gibson McIlvain regularly provides to our many valued customers. We realize that optimal consistency and stability can be achieved through proper drying techniques, and our lumber experts take the time and effort to make sure that happens.
The availability of Sapele adds to its many valued attributes to make it easily and sustainably sourced. With a wide growth range across Africa, an average trunk diameter of 6 feet, and a straight trunk with little branching below 80 feet, the result is an abundance of straight-grained lumber in generous widths and lengths. The consistently high and readily available supply of Sapele gives this lumber species a small price tag and big popularity ratings among those who have tried using it as an alternative to Genuine Mahogany.