J. Gibson McIlvain takes pride in providing its customers with high-quality hardwood lumber from both domestic and international sources. To understand the degree of service and quality you can anticipate from McIlvain, you must first understand that we are not your typical hardwood lumber provider. We provide a lot more than just hardwoods.
For starters, we also sell softwoods and have a large millwork selection. However, we're also timber importers that keep a careful eye on all aspects of the supply chain. We get to know our overseas suppliers on a personal level and audit their processes meticulously to assure premium lumber as well as ethical and legal operations. We also provide professional assistance and work directly with project managers to ensure that the timber we deliver our customers is the exact type, size, and quality needed for the job.
We take our role as your hardwood timber supplier seriously, keeping a variety of woods in store at our many storage facilities, from domestic to exotic species. We test each board at least three times before approving it for shipment to ensure top-notch quality control.
The following are some of the most common hardwood lumber varieties which we provide.
1. Ipe
This popular exotic decking wood, pronounced "ee-pay," will most likely last a lifetime. Ipe is well-known for its use on the boardwalk in Atlantic City, as well as numerous other decks, docks, and boardwalks throughout the United States and the world.
2. Teak
This golden brown exotic wood is prized for its weather resilience, and it's frequently utilized in maritime applications like boat decking on luxury yachts. Teak is resilient and very resistant to decay and insect damage, even when regularly bombarded by salt water.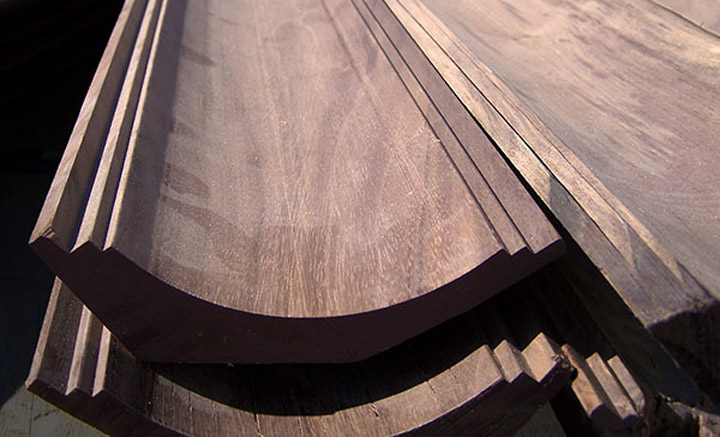 3. Walnut
This chocolate-brown domestic species is commonly used for furniture, doors, and trim, as well as cabinetry, which is its most popular application. Walnut is a remarkably light timber that machines easily while still providing toughness.
4. Genuine Mahogany
This typical red-brown favorite has a wide range of applications outside of the furniture sector. Because of its rot resistance, Genuine Mahogany can even be used outside. Mahogany is a wood that comes from Central and South America.
5. White Oak
This domestic species, known as "the wood that created America," has quartersawn stability and is used for a wide range of purposes. White Oak is one of the hardest domestic species, and its rot resistance makes it a great choice for both exterior and interior construction.
6. Sapele
This African wood has a Mahogany-like appearance and a hardness that surpasses Oak, as well as a woodsy perfume that rivals Cedar. Sapele polishes beautifully and has an interlocking grain pattern, thanks to its tight grain.
7. Cherry
This classic choice for furniture comes from the Appalachian regions of Ohio and Pennsylvania, and it has exquisite graining and warm coloration to go along with its easy workability. Cherry is a hardwood that will last for a long time due to its strength and toughness.