Genuine Mahogany has long been a favorite of furniture makers and woodworkers in general — and for good reasons, too. Its workability is second-to-none, and after finishing, the color and depth are simply breathtaking. Those aspects of the species have not changed. However, in recent year the grade and availability of the Mahogany that grows in South America have definitely gone downhill.
The saddest part about the recent shift in the Mahogany market is that it was entirely unnecessary. It started years ago, with the mismanagement of Mahogany forests. Many countries are still trying to recover from the lack of sustainable forestry practices, even while CITES regulations limit the amount of Mahogany that can be exported. Even though the future looks bright for Mahogany, the current situation is far from ideal.
Basically, sawmills are being subsidized by third party organizations that assist the government in overseeing land concessions and other regulations. As a result, politics have contributed to virtual monopolies, which combine with poor sawing methods to produce decreased grades of wood and higher amounts of waste.
One solution to the problem would be for North American buyers to change their thinking about what they consider acceptable Mahogany. (After all, we're talking about a natural material, not plastic!) Unlike the rest of the world, we as North Americans have been spoiled with practically perfect grades of tropical hardwoods. As a result, we've grown intolerant of lower grades of Mahogany lumber that include natural blemishes or "defects."
In addition to a change of perspective from buyers, a change in the grading scale may help. As part of South American conservation efforts, implementation of NHLA grading standards may help with consistency in grading, as well as more reasonable grading that allows for a certain number of defects in each board. When more Mahogany "makes the grade," less of it will be wasted, and its future will grow brighter.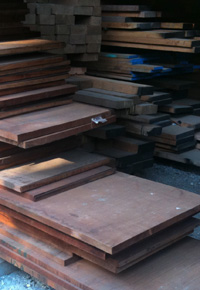 Of course, there's a down side to these grading adjustments, though. The NHLA system was originally designed with furniture making in mind. While Mahogany is still used for furniture, its main use is as a milled product, which means zero tolerance for defects. The proposed changes to the grading scale would mean more unusable boards passed off as FAS that are unusable as a moulded product. So there would still be waste — it would just be after it's been exported rather than before.
A more reasonable alternative to the grading adjustments would be to allow fewer Mahogany trees to be harvested. Another would be for these third-party entities to stop encouraging sawing for quantity, rather than quality.
In the mean time, it seems that quality Genuine Mahogany is getting more and more difficult to source. Many alternatives to South American Mahogany exist, and J. Gibson McIlvain is continually researching the best sources for those comparable species.