Quick Facts about Mahogany Lumber
There are many different tree species and hardwoods commonly referred to as "mahogany." Commercially available alternative species have gained in popularity over the last several years, although Genuine Mahogany remains the most sought-after of the "mahogany" lumbers. Some alternative woods are part of the mahogany family, but vary significantly from Genuine Mahogany.
Genuine Mahogany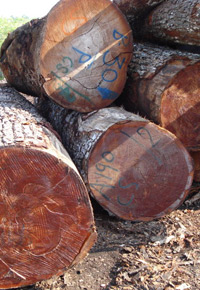 Genuine Mahogany (Swietenia macrophylla) goes by many names, including Honduran Mahogany, Peruvian Mahogany, Bolivian Mahogany, South American Mahogany, Big Leaf Mahogany, and so on. Genuine Mahogany has long been considered the ideal imported wood in terms of stability and properties favorable for finishing.
Because of the characteristics of Genuine Mahogany, the wood is used extensively in furniture making, high end door and window manufacturing, wood turning, and musical instrument production. The color is a rich and consistent brown, giving the wood a deep natural tone which is accentuated with staining and finishing.
View the top exotic hardwoods imported from South America.
African Mahogany
African Mahogany (Khaya ivorensis) occurs naturally in West Africa, primarily Ghana and Cameroon. Wood from this region is consistent in grade, color, and texture, and carries a very lustrous grain appearance.
The grain of the African Mahogany is typically coarse and interlocking, giving the lumber a dense, heavy feel when compared to Genuine Mahogany or Sapele. African Mahogany is utilized in finished products such as furniture, high end musical instruments, finished architectural millwork, and window & door manufacturing.
Click here to learn more about African Mahogany.
Spanish Cedar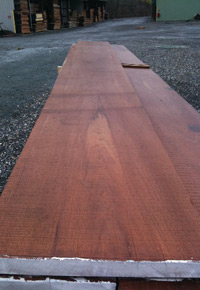 Spanish Cedar (Cedrela odorata) is a softwood native to several countries in South America, including Brazil, Bolivia, Peru, and Columbia. Spanish Cedar has also been naturalized to grow on plantations in Ghana and the Ivory Coast.
Spanish Cedar is popular for use in a variety of applications including exterior millwork and trim, siding, window and door manufacturing, architectural panels, and cigar humidors. The South and Central American softwood is especially popular because of its resistance to attack by termites. It is very well suited for exposure to outdoor elements. The heartwood is a reddish brown hue and can contain small streaks of gum.
Click here to learn more about Spanish Cedar.
Sapele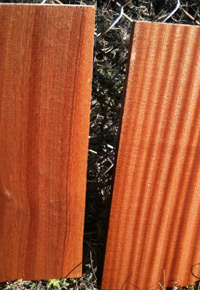 Sapele (Entandrophragma cylindricum) is a moderately priced substitute for traditional Genuine Mahogany. Sapele lumber is indigenous to several countries in Africa; most of J. Gibson McIlvain's Sapele lumber is imported from the Congo.
The color of Sapele is a dark brownish red and can sometimes move into a purplish red hue. J. Gibson McIlvain separates our Sapele according to flat sawn (cathedral) and quarter sawn (straight) grain. Occasionally, we get in a shipment with several highly figured Pomelle boards.
Click here to learn more about Sapele.
Utile or Sipo
The Europeans have been using Utile or Sipo (Entandrophragma Utile) for years as a beautiful alternative to Genuine Mahogany. Utile is a dark brown color and is known for beautiful, tight flecks that make the wood look radiant and almost glisten. Customers report that they truly enjoy working with Utile. Utile is widely used in window and door manufacturing and in various architectural millwork applications. It is also used for musical instrument manufacturing.
Click here to learn more about Utile/Sipo.
All of the lumber variations mentioned above are sourced with great care for high quality and legality. Legal sourcing is a process we take very seriously — J. Gibson McIlvain employees visit and inspect all lumber purchased at the source. We have long term relationships with suppliers who maintain meticulous records and can track every log back to its origin.
J. Gibson McIlvain Company
Since 1798, when Hugh McIlvain established a lumber business near Philadelphia, the McIlvain family has been immersed in the premium import and domestic lumber industry. With its headquarters located just outside of Baltimore, the J. Gibson McIlvain Company (www.mcilvain.com) is one of the largest U.S. importers of exotic woods.
As an active supporter of sustainable lumber practices, the J. Gibson McIlvain Company has provided fine lumber for notable projects throughout the world, including the White House, Capitol building, Supreme Court, and the Smithsonian museums.